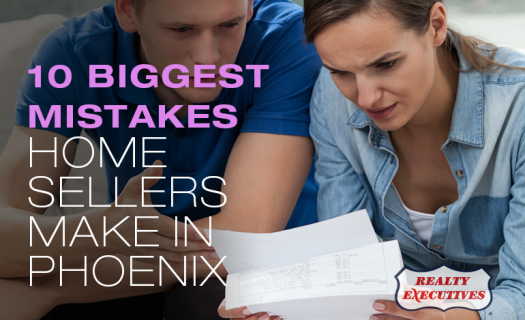 Whether you are getting ready to sell an average home or a luxury property, there are certain things to keep in mind to help your home sell as quickly as possible. Discover the ten biggest mistakes home sellers make in Phoenix so you can avoid critical errors and keep the process of selling your home exciting and fun!
1. Not Marketing Properly
Selling a home in Phoenix is all about marketing. You can't get the house sold quickly or at a high value just by putting a sign in the front yard. You need to get it in front of every set of eyes you possibly can. Even someone who isn't going to buy might know someone who will.
Use social media.
Use real estate databases.
Run ads in the local papers.
Mention it on message boards.
Utilize every method you can think of to let people know it's there.
If you are selling a luxury home, you will be reaching out to a whole different audience. For this reason, it would benefit you greatly to team up with a high-octane luxury real estate agent who knows the Phoenix market inside and out.
He or she will be able to market your home to a luxury audience and use connections to others in the industry as well as luxury buyers to reach this smaller audience. Your realtor should be discerning based on your comfort level and privacy concerns when marketing your home.
Your realtor should be marketing your high-end property on his or her website and social media channels, popular real estate directories, and additional online channels like the Wall Street Journal, Robb Report, duPont Registry, New York Times, and dozens of national and international websites. This will help you reach the most luxury buyers.
2. Waiting for Appointments
You'd be amazed at how few sellers undertake the simple process of holding an open house. This is the best way to make your home sale an event that will get the most people in the door and to present the home in its best possible light. A lot of sales result from open houses, so don't forego it.
For high-end properties, selling your home on your own is not recommended (and neither are open houses). A luxury seller's agent should submit the property to any realtor tours in the area and should be available to show the home at the time most convenient for potential buyers.
3. Using an Inexperienced Realtor
You need a real estate agent. The days of getting a good result from "For Sale by Owner" are long gone, if they ever were at all. But hiring a realtor with no experience is the worst thing you can do. Make sure your agent knows you, your home, and the community and has a long list of successful sales under his or her belt.
The stakes are even higher when it comes to selling luxury property. A luxury real estate agent has to know how to determine the correct price of your home considering all of its unique features, the current luxury market, and several other factors. Because luxury homes don't sell as quickly, incorrect pricing can result in a long, drawn-out selling process that no one will be happy about.
4. Failing to Have a Home Valuation Done
Many people either ask way too much for their home or way too little. Getting a proper home valuation done is key to selling your home quickly and at the right price.
For luxury home sellers, the stakes are even higher because you are in a much smaller market. High-end buyers and their agents will likely remember your home even if you take it off the market and relist it at a more appropriate price. This can create a stigma as potential buyers may assume that there is something wrong with your property.
5. Costly Staging Errors
Besides marketing, staging a home is possibly the next most important thing you can do to sell the house. Clear out the clutter. Paint it neutral colors. Present it as a wide-open blank slate for new buyers.
For more helpful tips on getting your property ready to show, check out these staging tips from a veteran Phoenix real estate agent.
6. Amateur Photography
You'll need photographs to sell your house, but taking them with your cell phone is one of the biggest mistakes you can make. Hire a professional photographer to take pictures for your marketing.
If you are selling a luxury home, having professional photos taken to accurately showcase your home's features is a must. A virtual or video tour can also be helpful, especially since you are reaching out to potential buyers from other states and even international locations who can't readily schedule a walkthrough.
7. Failing to Update and Upgrade
Don't sell your home "as is." Home inspections will be done, and you'll get nailed if you haven't made essential repairs or necessary upgrades. Make sure it's in tip-top shape before you even put it on the market.
8. Improper Curb Appeal
Part of staging your home — possibly the most essential part — is curb appeal. Make the outside look glamorous and sparkling new. Cut the grass, trim the hedges, weed the garden and give it a fresh coat of paint. People do judge books by their covers.
9. Hovering During Showings
Don't hang around when people come to look at the house. Having strangers walk through your home can be nerve-wracking, but it's part of the process. If you hover during showings, you'll likely lose sales.
10. Being Non-Responsive to Potential Buyers
When you get an offer, respond as soon as humanly possible. Don't wait around or try the "make them sweat" tactic. You may find when you get back to them, they've moved on to another offer.
When the time comes for putting your home on the market, hiring the right Phoenix real estate services is always a good starting point. Choose an experienced realtor like Thomas Osterman and let him help you avoid these critical errors.
_________________________________
Are you interested in selling your Arizona home contact Thomas Osterman, your top luxury real estate agent. Call (602) 405-4052 to speak with Thomas today!
Read related articles: