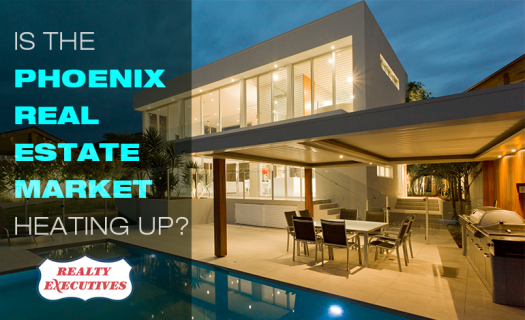 Last year, the real estate market was strong in most parts of the U.S., and Phoenix was a stand-out with surging home prices that outpaced most other major markets.
With its warm, dry climate, affordability, robust job market, the convenience of the Phoenix International Airport, and close proximity to other destination spots like L.A., Las Vegas, San Francisco, and Austin, the Valley of the Sun became a highly-desirable place to live.
But when the coronavirus pandemic hit in mid-March, many sectors of our economy took a major hit, and the real estate market was no exception. Many sellers delisted, shrinking the supply, and job uncertainty, shelter-in-place orders, and other restrictions kept some potential buyers from home shopping.
As the country slowly begins to open back up, many wonder what the housing market will look like in the coming months. The truth is, none of us has a crystal ball, but we can watch for indicators that reveal the overall direction of the housing market.
Key Metrics to Watch for in the Phoenix Real Estate Market
Here are some things to watch for when gauging the local real estate market:
Local Economic Factors: The country as a whole is experiencing record unemployment and jobless claims, which will undoubtedly affect the real estate market. Some areas have been harder hit by this than others.
Notably, the Phoenix area has been described by some experts as a "boom market" due to its recovery, which is said to be strong because the employment makeup of the area doesn't include a large share of hospitality and leisure jobs but is instead driven by business and tech growth.
Number of New Listings: When the pandemic hit, many would-be sellers hunkered down while some who had listed pulled their listings off the market, which was already experiencing a short supply of homes. According to Realtor.com, as of mid-June, inventory was down 27% from last year. An increase in new listings will signal a positive sign for the market.
Home Prices: Watch to see if home prices are rising or falling. Local real estate experts note that while resale home prices in greater Phoenix have moderated, new home prices continue to rise because of buyer demand. The Zillow home value index shows that home prices are still up 8% from last year.
Some experts say the luxury housing market has been more heavily impacted, making an experienced luxury real estate agent a must if you are considering buying or selling a luxury home.
Housing Demand: As the economy stabilizes, watch for demand to pick up as potential buyers begin looking at homes again. As Redfin reports, home buying demand has surpassed pre-COVID levels.
Fueled by record-low mortgage rates and the shift in the way we live and work, potential buyers in the Phoenix area are re-evaluating their living spaces. Some are now looking for more spacious homes with home offices, larger yards, and a little more elbow room than they may currently have in an apartment or luxury condo.
Urban dwellers now working remotely are looking to leave major cities and migrate to more rural areas where they can get more bang for their buck.
How Long Listings are on the Market: How much time houses are sitting on the market indicates the health of the real estate market, so this is something to watch. A recent survey by the National Association of Realtors indicated that while potential buyers are looking, a number of them are opting to wait a few months before purchasing.
Right now, data shows that homes are on the market about 19% longer than they were a year ago. Of course, with economies opening back up and demand for homes rising, we hope to see the time-on-the-market metric drop in the coming months.
Buying or Selling Luxury Real Estate in Phoenix, Paradise Valley, and Surrounding Areas
Regardless of whether the housing market makes a fast or slow recovery, an experienced real estate professional like Thomas Osterman can help you find your dream home or get the most from the sale of your luxury home. Get in touch with him today to learn how he can help.
_________________________________
Thomas Osterman, a veteran real estate agent, specializes in helping luxury home buyers and sellers get the most for their investments. Connect with Thomas by calling (602) 405-4052 today and enjoy a more personalized real estate experience.
Keep Reading!